Skills, Tests, Achievement, Recognitionthis is what STARSkate is all about!
STARSkate offers opportunities for skaters of all ages to develop fundamental figure skating skills in the areas of ice dance, skating skills, free skate and interpretive skating. Unique in Canada, this program teaches figure skating skills in a group and/or private lesson format in a progressive and sequential manner and includes specifically designed awards and incentives. Skaters have the opportunity to take Skate Canada Tests through a nationally standardized testing system. Skaters who have mastered figure skating skills in STARSkate may also choose to pursue synchronized skating or pairs skating.
Junior StarSkate/Rising Stars
The Mission Skating Club also offers Junior StarSkate/Rising Stars to promising members of our CanSkate program. It has been designed for participants to learn all the disciplines of the regular StarSkate, in a small group environment. This program includes a NCCP Certified Coach.
Why sign up for Junior StarSkate/Rising Stars?
The group environment makes the transition from CanSkate to StarSkate less overwhelming for young participants. It helps to keep costs down while making the decision to go into the StarSkate program. Any skaters wanting to improve their skating skills and development can join our Rising Stars/StarSkate programs.
Skaters working on stage 3 of the CanSkate badges can join and will work towards completing stages 4&5 CanSkate badge levels. Skaters will also be introduced to other figure skating skills that will prepare them for the StarSkate program. This program will run: Tuesdays and Thursdays, 345pm to 445pm for Fall & Winter 2023-24 Come and join us! We would love to have you!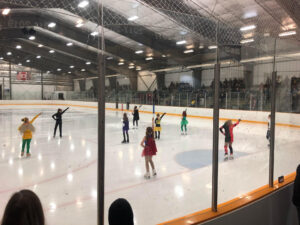 The STARSkate legacy
STARSkate has been the mainstay of figure skating in Canada for more than four decades. When you/your child registers for a STARSkate program at your local Skate Canada club, you also become a member of Skate Canada and will have access to:
opportunities to be recognized through a nationally standardized testing system for achieving specific figure skating skills
complimentary Gold Test pins
invitational and interclub competitions, including the STARSkate championship stream
specifically designed awards and incentives such as badges, tattoos and stickers
STARSkate Skater of the Year awards program
Progress updates and report cards
Special STARSkate events and club functions
Opportunity to be talent-scouted
Opportunity for personal growth and the development of important life skills such as goal-setting, self-discipline, confidence, time management, healthy lifestyle and coping strategies to deal with success and failure.
How STARSkate works
The STARSkate program consists of figure skating skills in four areas – Skating Skills, Ice Dance, Free Skate and Artistic. Each area is divided into the following levels:
Assessment levels:
Skating Skills: STAR 1-10 and Gold
Free Skating: STAR 1-10 and Gold
Dance: STAR 1-10 and Gold
Artistic: STAR 5,7,9 and Gold